Best tariff guaranteed
Book
Hotel in Haute-Normandie
Nestled in the heart of the city of Verneuil-sur-Avre in Haute-Normandie, the Hôtel du Saumon invites you to find a forgotten way of life, at a time when people knew how to take their time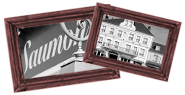 Gallery
Welcome to the Hôtel du Saumon
Nestled in the heart of the city of Verneuil-sur-Avre in Haute-Normandie, the Hôtel du Saumon invites you to find a forgotten way of life, at a time when people knew how to take their time. The hosts, Nadine and Alain Simon, welcome you into a family atmosphere which will make your stay in this old coaching inn particularly pleasant.
You will stay in one of the 29 bedrooms which have been recently refurbished. Perfectly equipped, they will offer you all the comfort of which you dream. A hearty and generous breakfast will be served either in the breakfast room or in the privacy of your bedroom, according to your preference.
On the ground floor, our restaurant offers you Normandy inspired cuisine with specialities of salmon and lobster from our tank. There you will spend a pleasant "tasty" time with your family or friends.
The location of our 2 star hotel will enable you to discover the town of Verneuil-sur-Avre, classed as amongst the "100 most Beautiful Detours of France", and its outstanding heritage, between narrow cobbled streets and the banks of the river Avre: ditches and remains of the ramparts, canals, half-timbered houses, churches, private mansions and the Tour de la Madeleine, a real beacon in the south of the Eure.
36 km away, the town of Dreux gives the opportunity for a pleasant walk to discover this city in which the historical centre offers a good overview of architecture from the 15th century up until today. Pedestrian streets, lively squares and a covered market will charm you, as also will a visit to the very modern Odyssey, the Chapelle Royale [Royal Chapel], or the ancient Caisse d'Epargne or the ancient Arsenal, classified as Historical Monuments.
Lovers of history will also be tempted to visit Evreux, its cathedral and the Clock Tower, as well as take a walk along the Iton river. In the surrounding area, you will find the Gallo-Roman archaeological site of Gisacum, the gardens of Miserey and also the Eglise Saint-Christophe [Saint-Christophe Church]. The Grand Evreux offers a very colourful countryside of forests, rivers and picturesque villages.
Finally, families will enjoy escaping to Center Parcs, situated 7 km from the Hôtel du Saumon. On the programme: spa, children's workshops, golf, horse-riding, adventure course etc. Everything for the young and old!
Service provision & services
Within our 2 star hotel, you will have the following services and provisions:
29 very comfortable rooms (Check-in will be ok until 10 pm)
Restaurant Free Wi-Fi connection
Access for persons with reduced mobility
Animals accepted
Nearby public parking